Wella Professional
Elements Gift Set
COVID 19 update
Due to the current situation with COVID 19, our shop is available for you to browse, however we are not currently taking orders. To be notified of when this changes subscribe to our mailing list.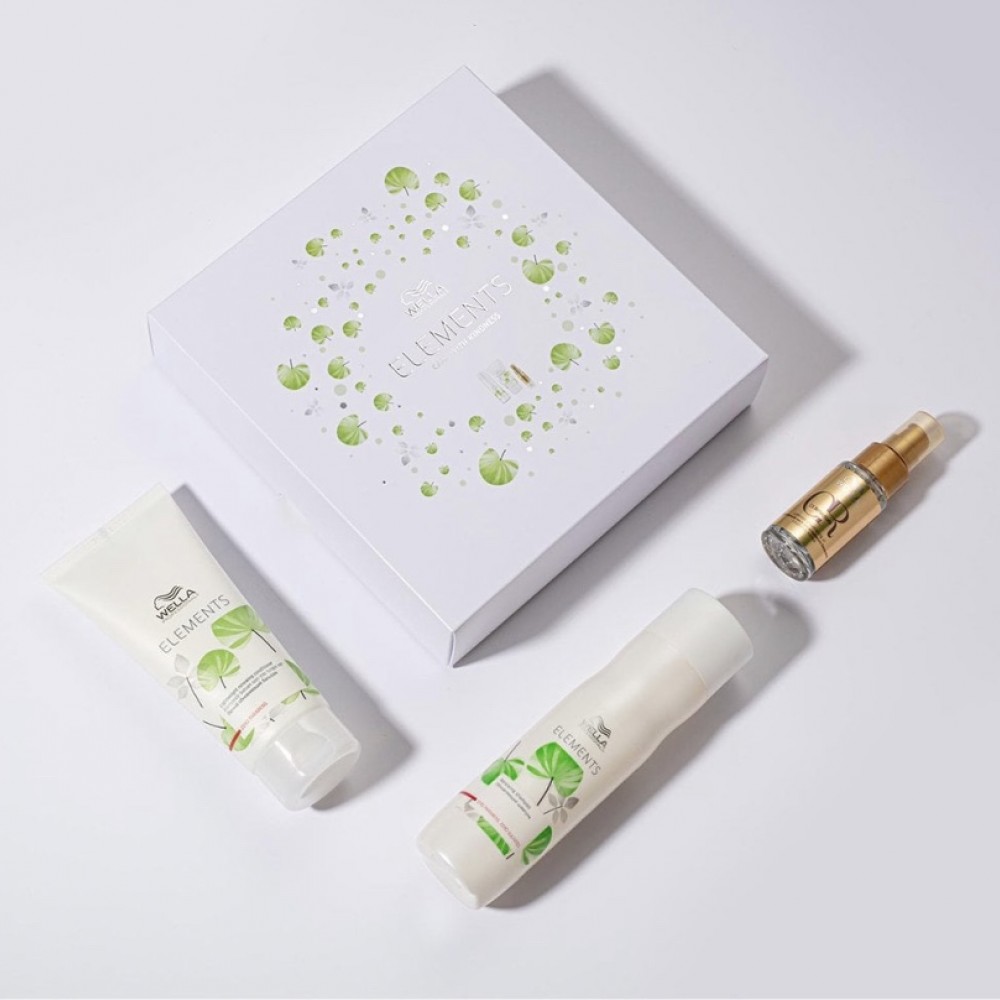 +
Description
Wella Professionals Elements Gift Set contains three of Wella Professionals' best-selling care products for damaged hair.
Collection Includes
Wella Professional
Elements Renewal Shampoo (250ml)
Formulated for repairing & caring for all hair types. Elements Renewal shampoo has also been designed to rescue dry and brittle hair by preserving and rebuilding your hair from the root to tip. This sulphate free shampoo deeply nourishes each individual hair strand to leave hair shinier & healthier looking (with minimal frizz!) The lightweight formula is gentle to damaged hair and lovingly restores it to silky-smooth condition by promoting Keratin production within the hair. Overall, this shampoo will restore moisture, repair hair whilst simultaneously delivering a boost of shine to dull & coarse hair.
Wella Professional
Elements Light Conditioner (200ml)
A lightweight conditioner that has been formulated to revive dry & dull hair. By adding boost & radiant shine to dry & damaged hair, this conditioner utilises its active ingredients to nourish and revive every strand of hair by preventing Keratin degeneration. The revolutionary formula has a gel-like texture which strengthens each hair fibre from root to tip thus repairing and preserving the hair's natural vitality. Your hair will be left soft & silky smooth. Contains no parabens.
Wella Professionals
Reflections Oil (30ml)
A multi-sensorial oil formulated with Macadamia Seed Oil, Avocado Oil and Vitamin E to instantly reveal the beautiful, natural reflections of hair colour. Leaves hair feeling incredibly light and supple with high glossy reflections.
Directions of use
Shampoo
Apply to wet hair, lather and rinse thoroughly.
Conditioner
Apply to damp hair, leave on for 30 seconds then rinse thoroughly.
Oil
Apply a few drops of oil onto damp hair for an instant, lightweight smoothening effect.
Delivery
Delivery within 3-5 working days. More info
Returns
On items eligible for returns, you have 14 days from delivery to return your item. Please do not post your item until you have submitted a return request and a member of our team has been in touch. More info